Leicester and Leicestershire's festival calendar for 2023 is packed with fun-filled carnivals, grand celebrations and a host of events to celebrate the best in comedy, food, music, nature and more. Visit Leicester has compiled some of the highlights of the city and county's 2023 festivals calendar. The Leicester Comedy Festival will celebrate its 30th anniversary from 8-26 February with special anniversary events.
These include 30 Acts for £30 at Hansom Hall, the 30th Anniversary Exhibition at The Old Library Café and Galleries and the 30th Anniversary Celebration at the Sue Townsend Theatre on 25 February. The festival will end on Sunday, 26 February, with a 30th-anniversary special of Comedy Heaven, headlined by Nish Kumar.
The Spark Festival, dubbed 'the best children's arts festival in the world', will return to various venues around Leicester in its 20th outing from 13-19 February. This is a week-long adventure of family fun featuring the very best in theatre, music, dance, workshops and interactive digital experiences.
Foodies will relish the Midlands' biggest vegan extravaganza when Leicester hosts the Leicester Vegan Festival on 4 March. Discover a wealth of new flavours and culinary ideas from some of the UK's best vegan and plant-based businesses, and savour feasts prepared by world food stalls that will run throughout the day at De Montfort University.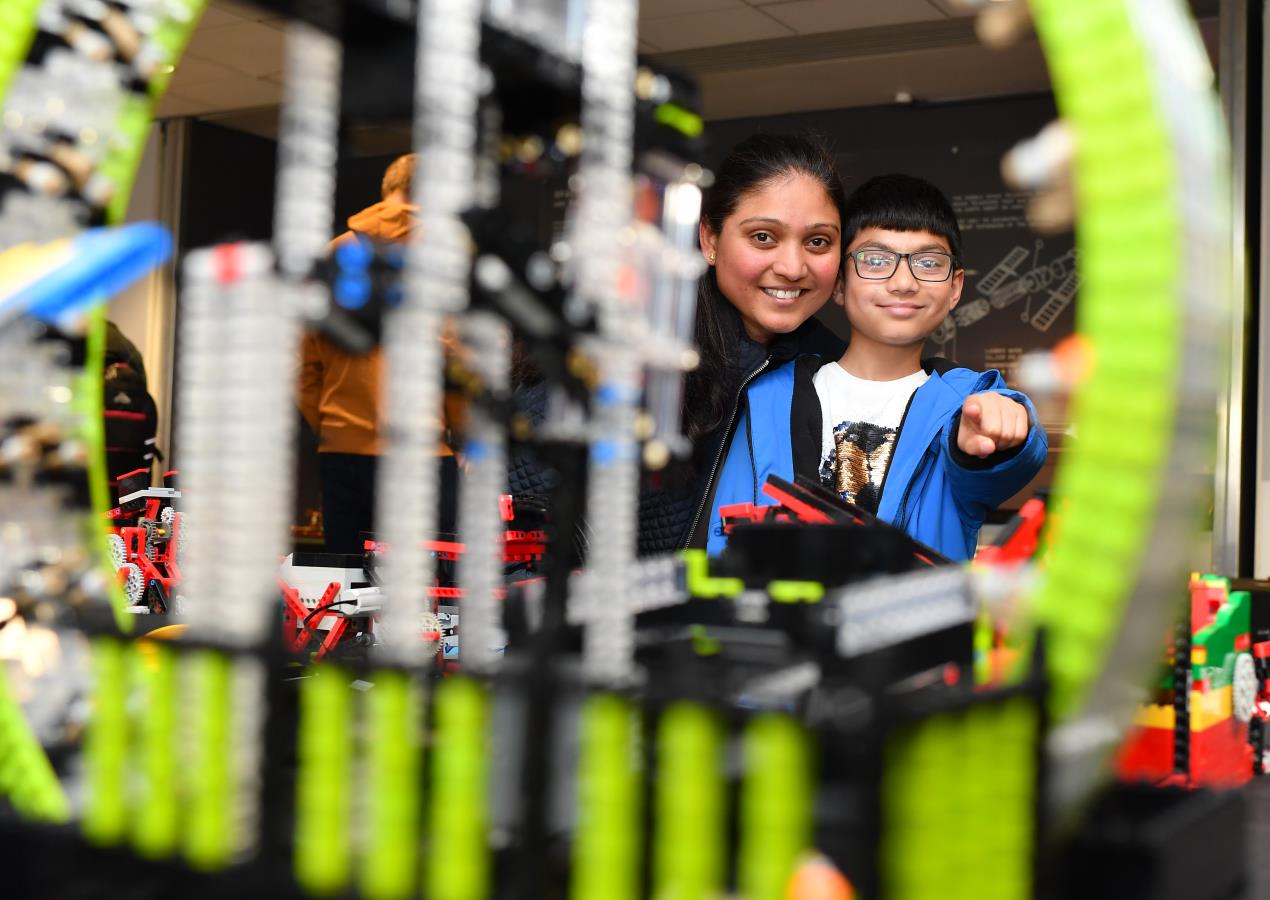 Brickish Weekend is back from 11-12 March and will showcase LEGO models and displays by fans from across the country at the National Space Centre. During the weekend, the building will be filled with huge LEGO creations, rare kits, planes, trains and automobiles, including impressive collections of toys and plushies and interpretations of art depicted through LEGO models.
Literary Leicester, from 22-25 March, is the University of Leicester's annual free literary festival, open to all. The festival's line-up of writers includes some of the UK's most exciting thinkers, including Kit de Waal, Mick Herron, Nina Stibbe, Samira Ahmed, Liz Jensen and many more.Head over to Belvoir Castle for Dog Fest from 13-14 May. This promises to be a brilliant day out for dogs – and their owners of course! Canine companions can join have-a-go activities like dog diving and agility, along with a fun dog show and dog displays all day in the main arena, with animal experts on the live stage and a Dogs Trust dog school offering tips.
At the National Forest Walking Festival from 13-25 May, you can take in the beautiful sight of spring blossoms, enjoy the heady scent of bluebells carpeting ancient woods and see wildlife in abundance. Highlights include the volcanic rocks of Bradgate Park, along with the home of the 'Nine Day Queen' and you can trace the route Sir David Attenborough took as you wander the pathways of Swithland Wood, a site of special scientific interest with fossils that date back to the Cambrian period.
Melton Mowbray's famous cattle market will host the Artisan Cheese Fair from 20-21 May. This is the UK's largest cheese fair which will draw more than 50 artisan cheesemakers from across the UK and Ireland, who, between them, make some 300 kinds of cheese. Visitors will be able to savour a variety of foods and drinks and take part in workshops, tutored tastings, food theatre and entertainment.
Glastonbudget is the world's biggest and best tribute band festival. Scheduled for 26-28 May in Wymesworld, Leicestershire, the festival's line-up includes the Antarctic Monkeys, Oasish, Fore Fighters, Kazabian and Totally Tina, among a host of other talented tribute acts. will return to Donington Park for its 20th anniversary from 8-11 June, with four stages of rock and metal music over four epic nights. This unmissable event returns with new options for 2023 including District X, a brand new immersive zone, the Download Lounge for those wanting to feel like a true rockstar, and a new rock retreat for campers looking to rock by day but relax by night! Headliners Bring Me The Horizon, Slipknot and Metallica will be joined by over 60 big-name acts, including Placebo, Evanescence, Architects, Disturbed and more.
Timber Festival will take place from 7-9 July in the glades of Feanedock, bringing music and art that celebrates nature and re-examines our relationship with the natural world.
Leicester will celebrate its West Indian heritage with the Leicester Caribbean Carnival on 5 August. This is one monumental party with a parade of sequins and shimmying, starting and finishing in Victoria Park, along with the floats, troupes, dancers and performers. There will also be live performances and street vendors selling arts, crafts and food from all around the world. Over 80,000 people are expected to come from across the UK to celebrate this spectacular event!
PieFest will be held in, where else, but Melton Mowbray, the UK's rural capital of food, from 5-6 August. Enter a world of pies, from the sweet to the savoury, along with meat, veggie, vegan and gluten-free options from the UK's best pie makers – including two Supreme Champions of the British Pie Awards. There will also be talks, workshops and tastings, along with chef demonstrations using ingredients featured at the festival. Set against the beautiful backdrop of Belvoir Castle, Leicester's Firework Champions, the amazing pyrotechnics show, will be held on 19 August. This spectacular event will light up the sky with pyrotechnics teams firing against each other.
The East Midlands Food Festival will take place in October. The region's premier food festival is renowned for its artisan food products, including cheese, pies, charcuterie, chocolate and all sorts of goodies. Tasters will be available, and you will be spoilt for choice with the array of drinks from cider and beer to artisan gin and whiskies. Kids can try their hand at making pies and butter while the El-Eaga Gospel Choir and the Melstrum Ukulele Band, will entertain you as you browse through the stalls.
Leicester's Diwali celebrations are the biggest outside India and come 12 November, up to 40,000 people are expected to throng the city's Golden Mile for the Festival of Light. This will be preceded by the Golden Mile light switch on in October, where up to 6,000 colourful lamps will be lit, followed by a firework display, with the best view to be had from Belgrave Road. In addition, the Diwali Village on Cossington Street Recreation Ground will feature a detailed programme featuring local talent, children's fun fair rides and food stalls.Yet another not-to-be-missed event is ChocFest, one of the largest UK chocolate festivals. Treat yourself to all things chocolate, even chocolate pizza, beer and kebabs! Of course, there will be chocolate pancakes, ice cream, cakes, doughnuts, marshmallows, and so much more. Plus, you can also join a workshop to make your own chocolates.For more information on places to see, things to do and where to stay in Leicester and Leicestershire, visit www.visitleicester.info