The UAE capital, Abu Dhabi, is home to some of the world's most spectacular hotels and resorts – from the world's first Warner Bros themed hotel that opened its doors at the end of last year on Yas Island, to the luxury Qasr Al Sarab Desert Resort by Anantara, a plush oasis located in The Empty Quarter, the world's largest uninterrupted sand mass. With the world reopening and travel being back on the cards for holidaymakers this year, Abu Dhabi is ready to welcome visitors with warm Arabian hospitality. The last couple of years has seen new and exciting hotel openings in Abu Dhabi, with more expected to open soon.
Abu Dhabi is the perfect destination for everyone to get their much-needed hit of vitamin D this winter and all year round – it offers the world in one place with a huge diversity of offerings for every traveller and guaranteed sunshine.

The World's First Recently Opened Warner Bros Hotel – opened in November 2021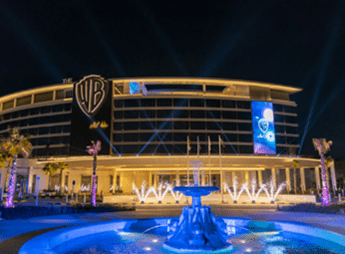 Having opened its doors to guests in November last year, the Warner Bros Hotel on Yas Island invites guests to experience their favourite stories and characters brought to life through unique hospitality experiences that only the rich history and storied legacy of Warner Bros. could offer. The hotel features one of the finest collections of Warner Bros. archives and guests at the hotel will be treated to a journey of discovery through film and television, with Warner Bros.' rich history and library of timeless productions offered at every touchpoint at the hotel upon arrival.
The hotel is also home to a host of leisure amenities, whether that's lounging by the family pool area, working out in the fitness center, relaxing in the spa, exploring the artwork and props or shopping in the Warner Bros. store. For families, the hotel also features a Kid's Cluba vibrant that brings the magic of Warner Bros.' to life for little ones. Located adjacent to the hotel is the award-winning Warner Bros. World™ Abu Dhabi, the world's largest indoor theme park, and also being walking distance from Yas Waterworld, the new hotel is ideal for families looking for entertainment and fun excursion in Abu Dhabi this year.
Room rates from AED 1,703 p/n. For more information or to book, click here.
Hotel Fairmont Marina Abu Dhabi – opening in 2022 (date TBC)
This year is likely to see the eagerly anticipated opening of the Fairmont Marina Abu Dhabi hotel. The hotel, which was initially expected to open in 2020, dominates Abu Dhabi's Corniche skyline, and with it being said to be architecturally similar to Dubai's Atlantis the Palm, it's unlikely the architecture will disappoint guests. The huge arch-shaped hotel has been on people's radar for a while, as many will have watched the construction take place over the years.
The 5-star hotel will offer a private beach, five swimming pools, as well as watersports facilities. There will also be 563 guest rooms, with King, Twin, Deluxe, Gold and Signature categories. The hotel will also offer three restaurants (pool & grill, beach and Italian) as well spectacular sea views.
As a great base to explore the capital city's mix of cultural and modern activities, the hotel will be in close distance to some of Abu Dhabi's leading attractions, such as Qasr Al Hosn Fort and Emirates Palace.
The opening date is still to be confirmed
DoubleTree by Hilton Yas Island Residences – opened in 2021
The new DoubleTree by Hilton Abu Dhabi Yas Island Residences opened its doors just last year and has since been impressing guests with its 'home away from home' hospitality.
Providing a range of accommodation options to suit all needs, the hotel offers 156 apartments, with a choice between a studio, one, two, or three-bedroom space. The hotel also offers many impressive facilities for guests to enjoy during their stay, including a temperature-controlled 25-meter pool, and a 24/7 state-of-the-art Fitness Centre. The hotel also provides an all-day deli, serving holidaymakers on the go from the hotel, along with a Float Pool Bar, where guests can sit back and relax as they are served treats directly from their sunbed.
Located in the heart of Yas Island, and nearby Abu Dhabi's International Airport, the hotel is great for guests looking to treat the family to a memorable leisure holiday experience, as some of Abu Dhabi's most entertaining and immersive attractions such as Yas Waterworld and Warner Bros Studios are located just next door.
Room rates from AED 145 p/n. For more information or to book, click here.

W Hotel – opened late 2019
Marriott International's W Hotels Worldwide brand arrived in the UAE capital only in late 2019, following a major renovation and rebranding of the Yas Hotel Abu Dhabi. The hotel features a unique and spectacular design, set half on land and half on water.
Situated next to Yas Marina Circuit, Warner Bros Studios, and Ferrari World, the hotel is in the heart of the city's bustling entertainment district. Making the hotel extremely appealing for overseas guests, the hotel is within easy reach of Abu Dhabi International Airport, which is just a fifteen-minute drive away.
The hotel has 499 guest rooms, many of which provide views of the Grand Prix racetrack or the Yas Marina, making it ideal to take in Abu Dhabi's spectacular landmark sights. It features a state-of-the-art pool for soaking in Abu Dhabi's sunshine, as well as a stylish restaurant, Garage, which offers guests a multi-kitchen dining hub that houses five different and distinct cuisines.
Room rates from AED 1,989 p/n. For more information or to book, click here.