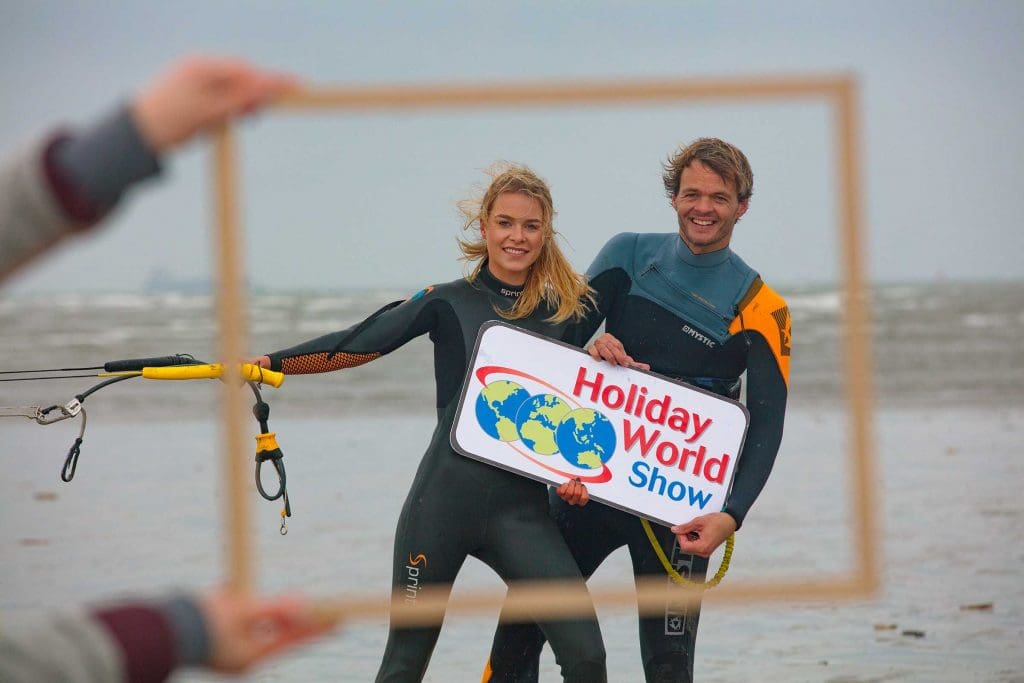 Dublin, 15th January 2018 Book your 2018 adventure experience at Holiday World Show, taking place in the RDS Simmonscourt, Dublin, from the Friday 26th to Sunday 28th January 2018. It is the only show where you can meet over 1,000 travel professionals from around the world to plan your perfect holiday and take advantage of show-only specials and deals.
The travel experts, who are coming to the RDS from over 55 countries around the globe, include tour operators, travel agents, hotel chains, national tourist organisations, airlines, theme parks, cruise companies, campsites and more. They will transform the RDS Simmonscourt into a hub of exotic, vibrant, multi-cultural activity. Whether you're seeking that once-in-a­lifetime trip, planning a well deserved family holiday or making plans for a romantic getaway, Holiday World Show is the must-attend event of the year.
Adventure Holidays
From African safaris to epic explorations of Europe or snorkeling in the South Pacific, your ideal holiday starts at Holiday World Show Dublin. Whether your dream adventure trip involves kite surfing in Achill Island, trekking through the Himalayas, discovering caves in Vietnam, or rock-climbing in Spain, it's all on offer at the Holiday World Show Dublin. Some of the adventure travel experts at this year's show include Explore Worldwide, Bike'N Ride Holidays, Ridge Trail Trekking Nepal and Mayo The Adventure Capital.
Let's Talk Travel with Eoghan Corry
International award winning travel journalist Eoghan Corry will once again take to the stage and present his newly formatted series of talks called 'Let's Talk Travel with Eoghan Corry'. Eoghan will interview leading industry experts from around the world and answer visitors' questions on topics such as Holiday Trends, Africa, Solo Holidays, Visas and Passports, Irish Attractions, Cruises and Adventure Holidays. These informative and enjoyable discussions prove hugely popular with visitors every year.
Visit USA Pavilion
The 'Visit USA Pavilion' at the 2018 Holiday World Show will be the largest in the show's 29 year history. Travel experts from across the states will be showcasing over 40 destinations, from wine tasting in the Napa Valley to theme park adventures in Orlando and shopping breaks in the Big Apple. Atlantic City is one of the new US destinations for 2018, offering Irish holidaymakers the chance to experience the world's largest casinos, fine dining and a city boardwalk famed for its 'perfect people watching' cafes, confectionary shops and amusements.
French Camping Pavilion
Family camping holidays are on the rise thanks to the varied landscape, fantastic climate and top class amenities. And with the launch of Irish Ferries' world-class new ferry service from Dublin to France in Summer 2018, this destinations popularity is set to soar. Campissimo will be the largest French Camping Exhibitor at this year's show, introducing a new range of camping holiday options to the Irish market.
Italy
The Italian State Tourist Board are bringing their biggest ever stand to Holiday World Show 2018! Famous for its romance, culture and breathtaking scenery, Italy is equally as special for family holidays, beach holidays and stylish city breaks. This year the passionate team from The Italian State Tourist Board will be showcasing a variety of Italian holidays from the magnificent historical tours in Rome, the beautiful scenery of Tuscany and the best restaurants in Sicily.
Spain
With the largest stand at the Holiday World Show, Spain will be one of this year's biggest attractions as a variety of Spanish regions represent the highlights of their home country. In 2017 the Spanish Tourism Board is expected to hit a milestone of 2 million Irish visitors travelling to Spain, demonstrating the Irish "love affair" with Spain. As Ireland's number one holiday destination, Spain will be showcasing a variety of stunning destinations at the show from the cities of Barcelona and Valencia, to the beautiful Basque Country and more.
Asia
Book your Asian adventure at Holiday World Show and choose from countries as diverse as Thailand, Japan, China, Taiwan, Malaysia and more. From the ornate palaces to the rich coral reefs and other wildlife, Thailand has many exotic holiday offerings. Take a trip to Northwestern Thailand for wildlife and Bangkok for a cosmopolitan experience, before heading south to the beautiful beaches, crystal-clear waters and luxe resorts of the islands of Phuket and Koh Samui.
In Taiwan, explore towering sea cliffs, tropical forests, scrumptious street food, and the sassy capital Taipei. Did you know that Japan-Ireland Diplomatic Relations is celebrating 60 years this year? With its long history, traditional culture and beautiful nature, Japan is another Asian destination to add to your hotlist for 2018.
Airline Pavilion
Aer Lingus will be at Holiday World Show 2018 showcasing its new routes to Seattle and Philadelphia, as part of its largest ever transatlantic schedule which also includes services to the US cities of Boston, Chicago, Hartford, Los Angeles, Miami, New York, Newark, Orlando, San Francisco and Washington. Turkish Airlines, one of the world's biggest airlines, will also be presenting its expansive schedule of flights to 302 destinations in 120 countries.
Ethiopian Airlines will form part of the new African Pavilion. With 3 flights a week from Dublin to Addis Ababa, Ethiopian Airlines have opened a gateway to Africa for Irish travellers. Qatar Airways, which recently opened its Dublin to Doha route, will also be exhibiting their wide range of routes and luxury aircrafts at the show while Air Canada will be displaying its new direct services between Dublin and Montreal and Shannon and Toronto, beginning in June 2018.
Cruises
Celebrity Cruises, Royal Caribbean International, MSC Cruises, Hurtigruten, Norwegian Cruise Lines (NCL) and Silversea Cruises are just some of the cruise exhibitors who will be offering their expert advice and show only deals at Holiday World Show 2018. They can offer you cruises with excellent children's activities, top class gastronomy from celebrity chefs and award-winning West End shows on board, not to mention the opportunity to wake up in a new destination every day!
Home Holidays
This year's Home Holiday Pavilion is the biggest one yet with exhibitors coming from all across our beautiful island. From stunning coastal towns to cosmopolitan cities and unforgettable landscapes, there is so much to discover right on our doorstep! With accommodation ranging from luxury castles to country cottages, activities as diverse as hill walking and surfing, world class cultural attractions and breathtaking beaches, why not make 2018 the year you explore Ireland. For 2018, there will be a new Northern Ireland Tourism Village and Donegal Tourism, voted 'the coolest place on the planet in 2017' by the National Geographic, will host the largest Home Holiday stand.
Caravan and Motorhome Show
The Caravan and Motorhome Show at Holiday World Show 2018 is Ireland's number one indoor and outdoor display of luxurious motorhomes, touring caravans, and accessories. Caravanning is now a popular holiday choice for couples, families and groups, giving you the freedom to discover new places without breaking the bank. The exhibitors at this year's show have ensured that there is something on offer for all tastes and budgets.
Over 55's Holidays
There will be a multitude of travel offerings specifically tailored to the more seasoned travellers with special over 55's holiday discounts available at Holiday World Show. Choose from a variety of holiday deals, from adventurous bucket list trips with The Travel Department to all inclusive luxury cruises or why not book an unforgettable home holiday in Ireland.
Edmund Hourican, Managing Director of the Holiday World Show said, "Now in its 29th year, Holiday World Show Dublin is bigger and better than ever! With over 1,000 travel professionals on hand to offer one-on-one guidance and tips on the best travel trends, it is the best place to book a holiday. For our 2018 show, we have lots of new and exciting exhibitors showcasing the newest holiday offers and value-for-money packages."
Pat Dawson, CEO of the Irish Travel Agents Association (ITAA) said, "Holiday World Show is a fantastic event for travel agents and consumers alike. It is a great opportunity for our members to display their holiday products while offering invaluable travel advice to members of the public. Every year there's such an array of culture, vibrancy and excitement packed into the RDS Simmonscourt, it is the perfect place to be inspired."
For up to date information on Holiday World Show 2018 and to see the full list of exhibitors visit www.holidayworldshow.com